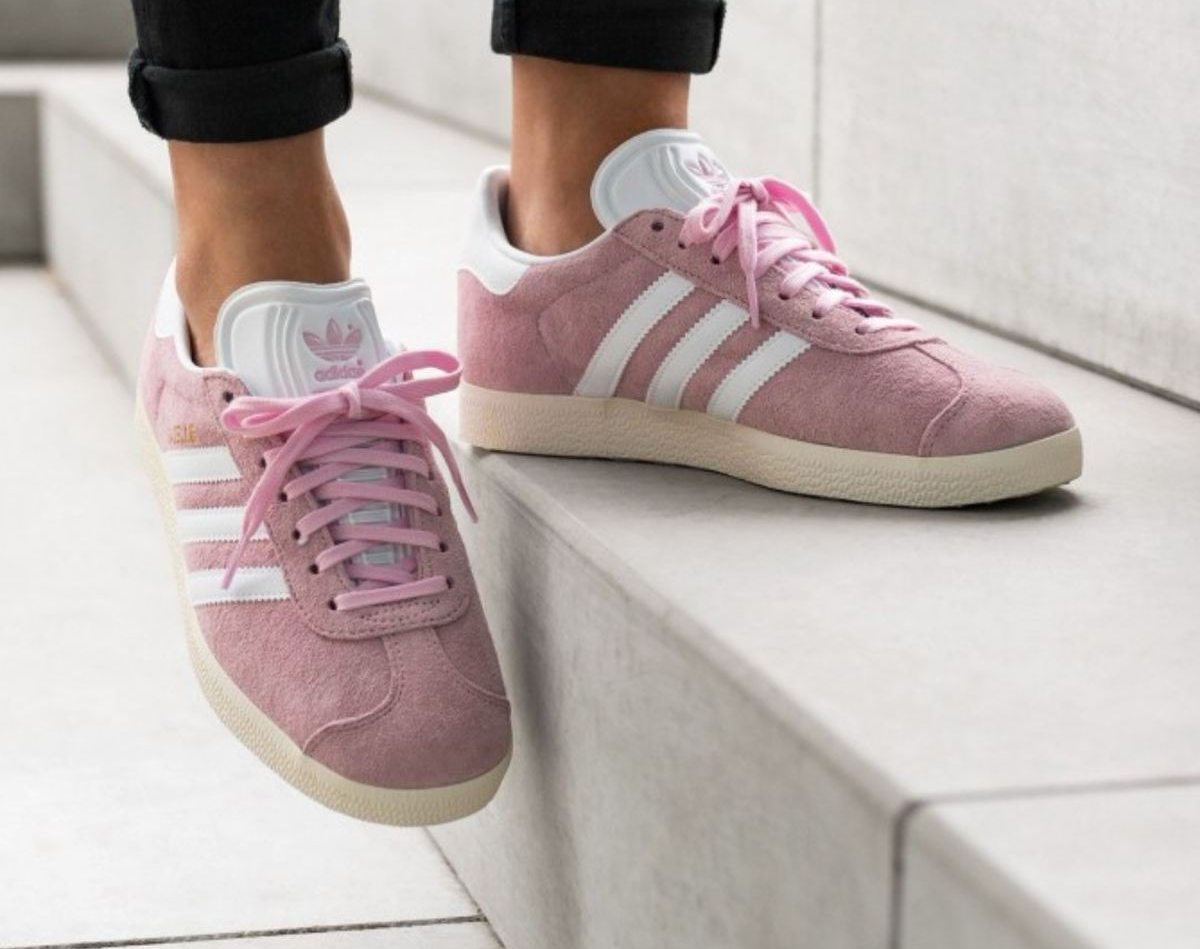 Review: Adidas Gazelle Pink Womens
The topic of this review is the Adidas Gazelle Pink Womens.
The classic Adidas Gazelle is an icon that can definitely not be left out of the list of reviews on this website. With more than 50 years on the counter, this beautiful silhouette can easily be called a keeper.  
In this review the Adidas Gazelle Pink is central.
---
The Adidas Gazelle was launched in 1966 as a training shoe for athletes.
The shoe is reportedly named after athlete Wilma Rudolph, who at the 1960 Olympic Games in Rome was the first American athlete to win 3 gold medals: on the 100 meter, the 200 meter and the 4 x 100m relay. Wilma's nickname was the Black Gazelle.
This classic suede model with the 3 stripes has laid the foundation for many other trainers by the German brand.
The T-shaped overlay on the nose and the contrast of the white stripes against the brightly coloured suede are properties that in recent decades have often been reused in other models.
---
Adidas Gazelle: hip-hoppers, skaters and Britpop artists
In the 80ies, the Adidas Gazelle was hugely popular in the British hip-hop scene. This was due to the fact that the Adidas superstar and Adidas Campus, popular in the US, were not widely available in Europe.
In the 90ies, it was the skaters who began to appreciate the functionality of the Adidas Gazelle. The trainer also became a sought after fashion item within the Britpop scene.
Artists such as Ian Brown (The Stone Roses) and the brothers Liam and Noel Gallagher (Oasis) wear this model to this day.
---
---
Review Adidas Gazelle Pink Womens
Coolness: 7.9
Given the successful history of the Adidas Gazelle, it is not surprising that fashion lovers and sneakerheads are still keen to be seen with this trainer.
It is practical, comfortable and easy to combine with almost any outfit through its simplicity and soft colourway. All in all, the Adidas Gazelle Pink Womens deserves a more than passing grade on this aspect.
Looks: 8.5
The Adidas Gazelle is a beautiful, classic trainer. This is due to the streamlined silhouette, the simple style, the flat sole and the suede upper.
The soft, pink colourway completes the amazing look of this beauty.
Durability: 9
The Adidas Gazelle is built up from premium materials and is therefore well-constructed .
On the website RunRepeat.com the results of a user survey are presented and the quality of this trainer is praised.
Therefore a well-deserved score of 9 on this aspect.
Office-Appropriateness: 7.2
The simple, stylish design of the Adidas Gazelle makes the shoe absolutely suitable for ladies to wear to the office.
A small minus point on this aspect can be the slightly frivolous colourway. This could be experienced as too sporty in certain office environments.
---
Review summary: Adidas Gazelle Pink Womens
Coolness -

7.9/10

Looks -

8.5/10

Durability -

9/10

Office appropriateness -

7.2/10
Total score
This results in a total score of:
---
---
Images Adidas Gazelle Pink Womens
---
Videos Adidas Gazelle
---
---
\