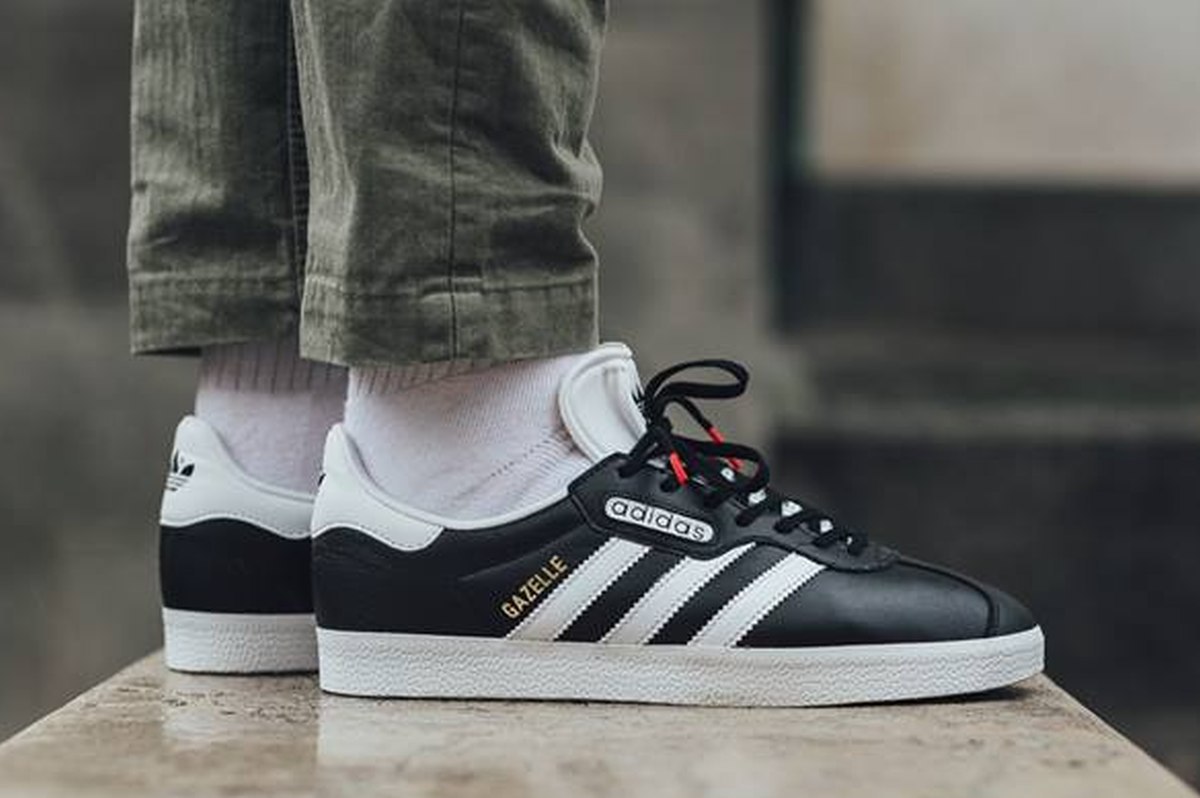 Review: Adidas World Cup Gazelle Super Essential – the ultimate retro king
In 1987 Adidas released a special version of the Gazelle – the Adidas World Cup Gazelle Super Essential Black. This striking trainer is the subject of my review today.
The 'normal' Adidas Gazelle is an athletic shoe that was first launched in 1968. It is one of the brand's most iconic models with the 3 stripes.
---
The Adidas World Cup Gazelle is a bit of an odd man out in the Gazelle family. This is partly due to the design and partly to the history of this model.
First the design. This is a striking shoe, partly because of the window with the brand name on the midfoot and a narrower nose. The red insoles and nestles stand out and the shoe is made of high-quality leather.
Then the history. From 1987 the Adidas World Cup Gazelle was exclusively manufactured in former Yugoslavia. The model was not a huge hype, but was popular among Adidas adepts who praised the trainer for its retro and classic Adidas look and high quality of the materials.
Production of the Adidas World Cup Gazelle Super Essential was stopped in the early 1990s.
---
---
Adidas World Cup Gazelle Black – the comeback
Due to the successful comebacks of the Stan Smith in 2014 and the Superstar in 2015 Adidas decided to relaunch the Gazelle in 2016. Part of the relaunch was a reissue of the Adidas World Cup Gazelle.
The standard Gazelle became a mainstream success, while its World Cup brother was a hit mainly among Adidas adepts, football fans, and old-school trainerheads who couldn't care less about the trainer hypes of the last few years.
---
Review Adidas World Cup Gazelle Super Essential
Coolness: 8
These Adidasses are not everyone's taste, but I think its classic retro look is cool.
It is not a trainer for a neat suit like the white Nike Air Force 1, but it fits well under jeans.
Looks: 9.2
This trainer certainly has appearance!
The retro look, the contrast between the black and white leather, the little window with the brand name in it, the red insoles and nestles – with the Adidas World Cup Gazelle Super Essential on your feet you will certainly attract attention.
Durability: 9
This timeless silhouette gives you a lot of comfort, a great fit, and a great deal of quality for your money.
The combination of the supple but sturdy leather and the classic rubber outsole ensures that you will enjoy these retro beauties for a long time.
Office Appropriateness: 6.2
The retro look of these Gazelles does not really work positively in this respect. With a bit of imagination the shoe looks like the famous World Cup football boot from Adidas, but without pimples on the sole.
The shoe can be seen as very (too?) sportive by ignorant office colleagues. Hence only a 6.2 for this part.
---
Rating by Bas: Adidas World Cup Gazelle
Coolness -

8/10

Looks -

9.2/10

Durability -

9/10

Office-Appropriateness -

6.2/10
Total score
This yields a total score of:
---
Images Adidas World Cup Gazelle
---
Videos Adidas World Cup Gazelle Super Essential
---
---