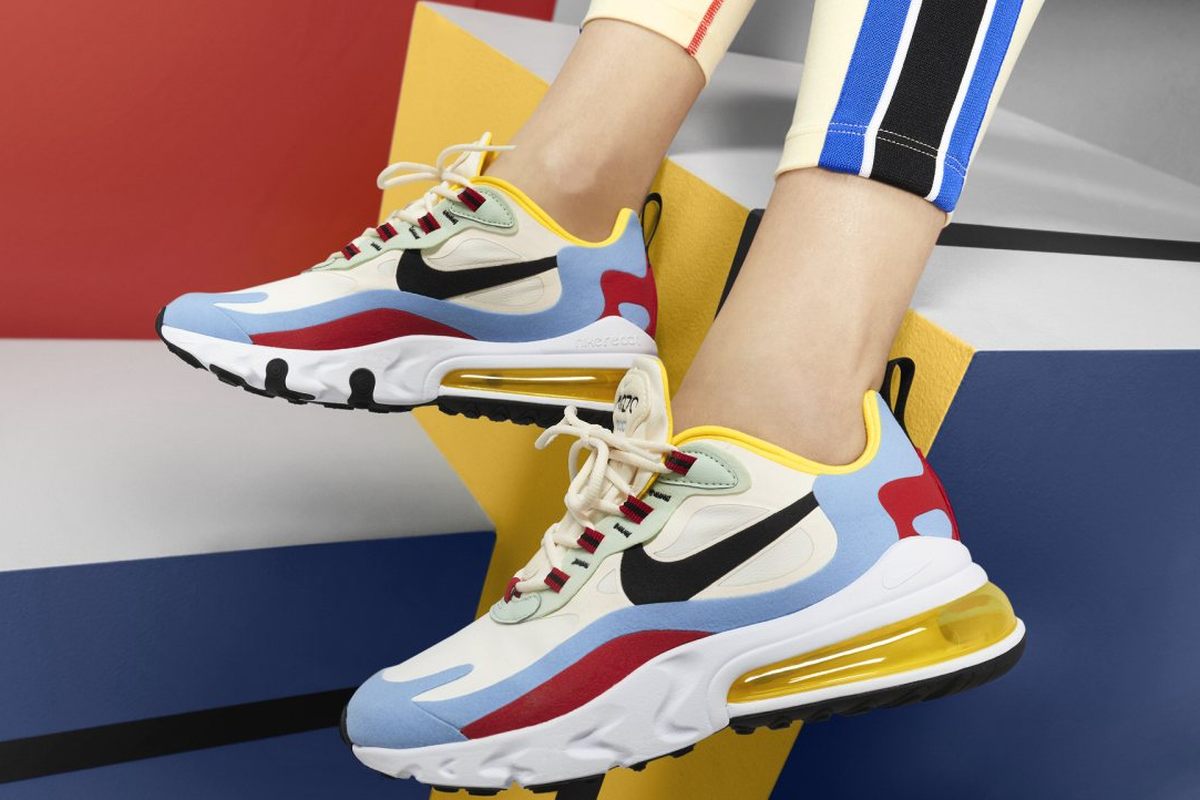 Review + Release: Nike Air Max 270 React White Women's
This blog concerns the Nike Air Max 270 React White Women's
The React sole and the Air Max 270 sole currently incorporate the most popular damping techniques from Nike. What do you get if you combine both techniques in one trainer? Yes, an unprecedented successful item.
I am of course talking about the Nike Air Max 270 React. At the beginning of July, Nike launched the colourful Bauhaus Pack, which includes a variant for men and a variant for women. This review + release focuses on the women's version, the Nike Air Max 270 React White Women's.
---
The Bauhaus Pack is based on the Bauhaus artistic movement. This world-famous movement was born 100 years ago and owes its name to the Bauhaus art school.
Between 1919 and 1933, Bauhaus was a progressive school for architecture and art in Germany founded by architect Walter Gropius.
If there is a style that characterises the Bauhaus movement, then it is a rational, standard and functional style.
---
Nike Air Max 270 React White Women: borrowed elements
The layered upper of the Nike Air Max 270 React contains several elements from other Nike models.
The high nose was borrowed from the Air Max 93, the oversized tongue was taken from the Air Max 180 and the lace eyes were copied from the React Element design.
With its somewhat bulky silhouette, these trainers resemble the popular "dad trainers", but in a more refined form.
---
---
Review Nike Air Max 270 React White Women's
Coolness: 8.9
The React Element and Air Max 270–models are already hugely popular at the moment. Can you see how this combination of both models was received?
It is simply the best of both worlds. Throw a dash of Air Max 93 here and a dash of Air Max 180 there and you have a winner.
Looks: 9.2
The aesthetic layering of the upper, the combination of two top soles, the daring but great colorway, the details borrowed from other Nike models… these trainers' looks are to die for.
With these stunners at your feet you are guaranteed to gain admiration on the street.
Durability: 7.9
The layered upper is solidly constructed. The only disadvantage is the spot sensitivity of the white nose.
Furthermore, the combined sole is robust and durable. If you take good care of these babies, they will give you lots of fun for a long time.
Office-Appropriateness: 6.5
The design of these "dad trainers light" is fantastic, with all the details of other Nike models incorporated into it. The colorway is also cheerful and aesthetically pleasing.
Unfortunately though, different rules apply to this second part of the review. The shoe relies a little too much on appearance and it features too many colours to be suitable for the office. Hence a meagre 6.5.
---
Review Summary: Nike Air Max 270 React White Women's
Coolness -

8.9/10

Looks -

9.2/10

Durability -

7.9/10

Office-Appropriateness -

6.5/10
Total score
This yields a total score of:
---
---
Images Nike Air Max 270 React White Women's
---
Video's Nike Air Max 270 React
---
---