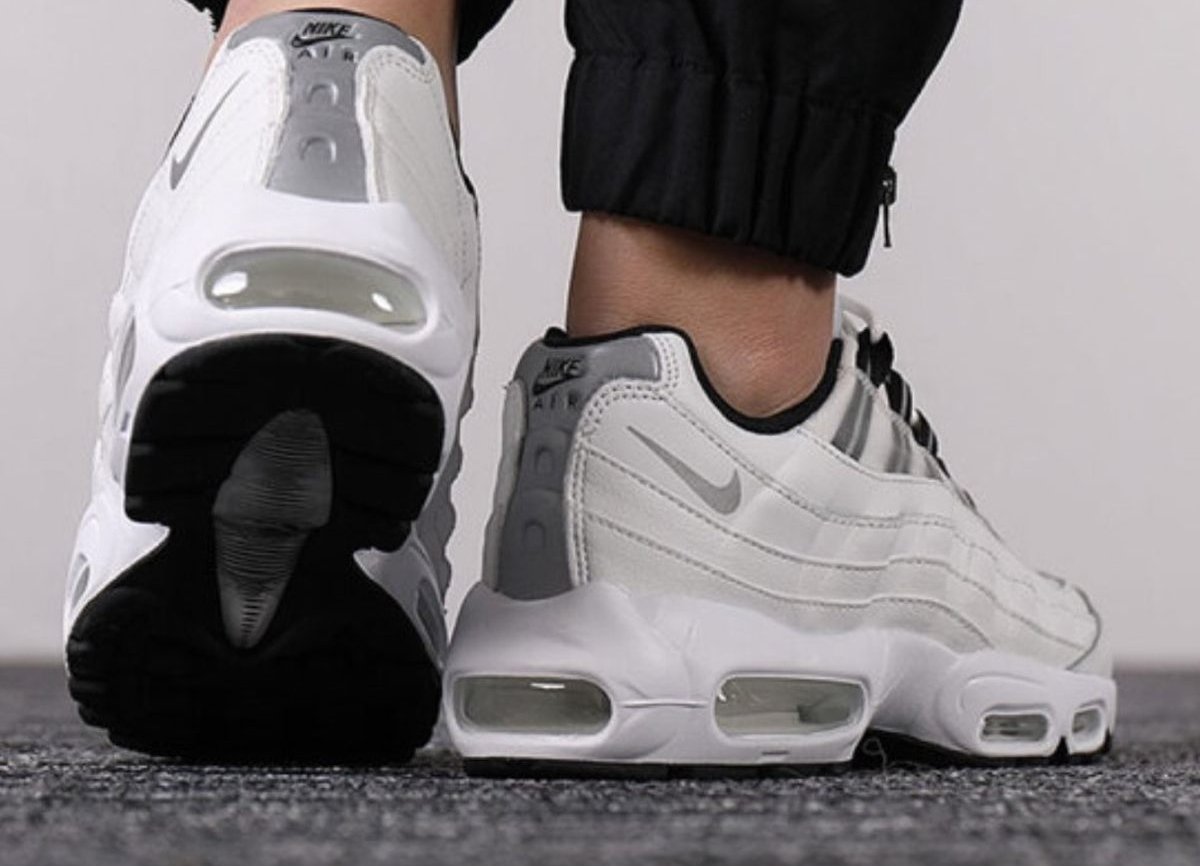 Review: Nike Air Max 95 White Womens, artistic view of the human body
In this review I discuss the Nike Air Max 95 White Womens.
Special shoes for large, heavy runners were not yet available in the mid-90ies. Nike decided to fill that gap. The result? The Nike Air Max 95.
---
The goal of the Nike Air Max 95 project was to create a shoe that could provide maximum cushioning for heavier runners.
Designer Sergio Lozano, who worked for Nike's ACG category at the time, was instructed to achieve that objective.
---
Nike Air Max 95 White Womens: Design pushes Swoosh into the background
In 1995, a shoe inspired by the human body saw the light. The lacing system of the Nike Air Max 95 stands for the rib cage, the outer sole is inspired by the spine and the upper with mesh and suede represents the muscle fibres.
The upper is layered, stitched and preformed for optimal support and to prevent stretching. Because of the layering, the famous Swoosh had to move to the side of the heel.
Calling the design of the Nike Air Max 95 spectacular would be an understatement. It was, certainly at that time, a daring silhouette. The colourway of the OG model was also innovative: grey and black shades with neon yellow and white accents.
After 23 years, the Air Max 95 is still doing well. The brand from Beaverton has now launched more than 150 different variants of the daring silhouette.
---
---
Review Nike Air Max 95 White for Ladies
Coolness: 8.8
During the past 23 years there have been periods when the popularity of this was waning. However, due to the emergence of the so-called Dad Sneaker, the Nike Air Max 95 is totally hot again.
This has of course to do with the somewhat clubby silhouette of the shoe. The clean, white look of this model also contributes to the cool factor.
Looks: 9.2
I already mentioned it above: calling the Nike Air Max 95 spectacular is an understatement. 23 years after the launch, the silhouette is still daring and unique.
The fresh white colour gives the look an extra boost.
Durability: 7.1
The upper and middle and outsole of the Nike Air Max 95 are firmly constructed.
A much heard complaint, however, is that the stitching of the different layers can get loose over time, especially at the nose of the shoe. Also it is not easy to keep this variant nicely white.
Office appropriateness: 5.8
Due to its bold design with the layered upper, the special eyelets and the various visible Air units, the Nike Air Max 95 is actually not appropriate for the office.
A woman with new, virginally white 95 's on her feet would still get away with it, but that's where it ends.
---
Review summary: Nike Air Max 95 Women's in White
Coolness -

8.8/10

Looks -

9.2/10

Durability -

7.1/10

Office-appropriateness -

5.8/10
Total score
This yields a total score of:
---
---
Images Nike Air Max 95 Womens White
---
Videos Nike Air Max 95 White Womens
---
---