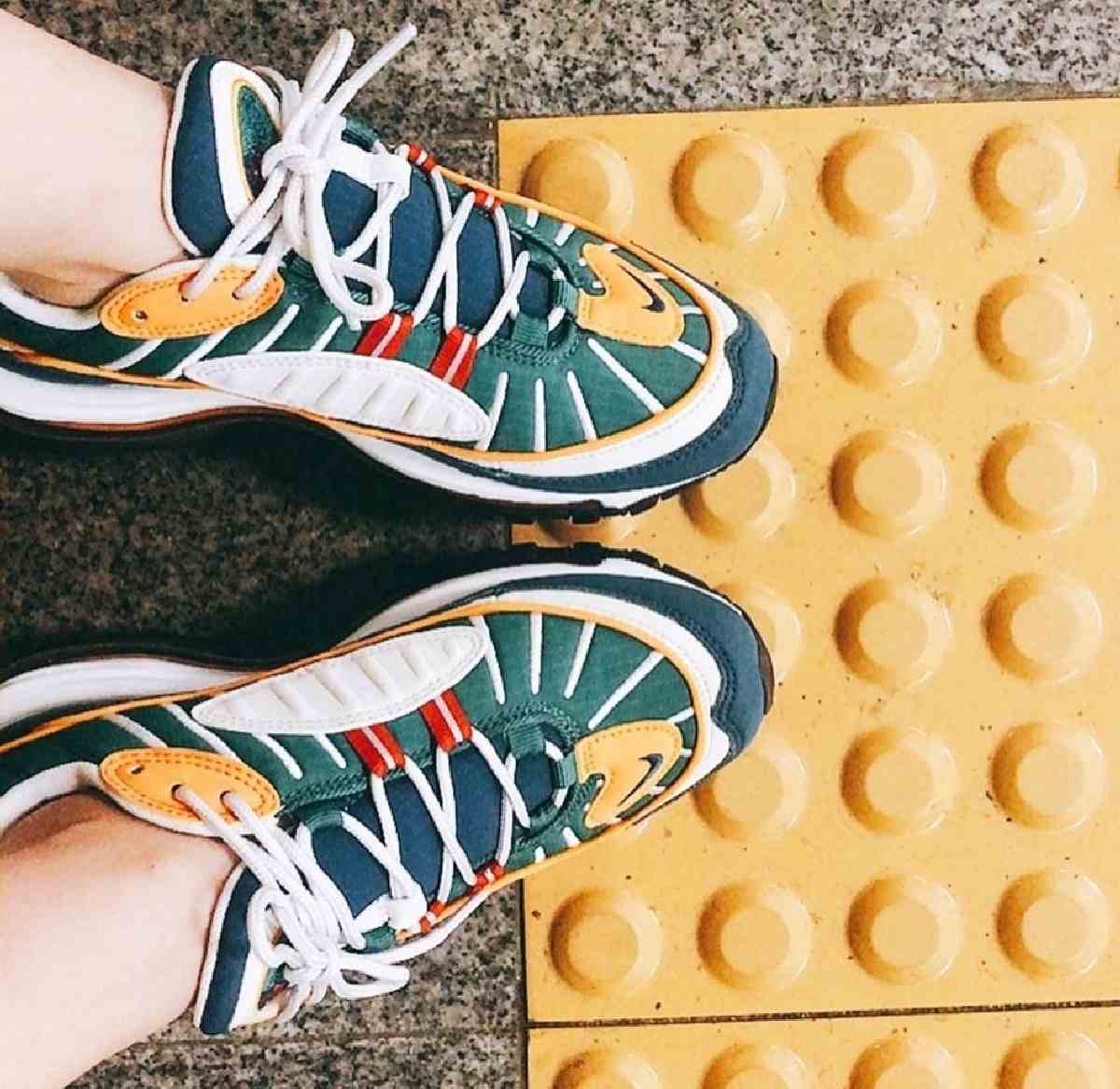 Review + Release: Nike Air Max 98 for Women
According to all popular sneaker release websites, the new Nike Air Max 98 for women will not be released until 19 June. A small secret: you can already buy them via SneakerScanner here!
The colorway of this colorful classic is officially called University Red / Orange Peel / Mystic Green / Blue Force. I stick with Nike Air Max 98 for Women for this Review + Release.
---
Just like its Air Max predecessors from the 80s and 90s, the Air Max 98 can be called a true classic. 21 years old, and still very popular among all target groups.
This sneaker is also a hit with the people who are at the forefront of the fashion scene, due to its flowing lines and colorful appearances.
---
Building on the success of its big brother
With the design of the Nike Air Max 98, Nike continued to build on the success of the Air Max 97. The innovative visible Air unit over the entire length of the shoe was taken over from its predecessor. The flowing lines in the silhouette and the leather upper, synthetic material and textile were also copied by the big brother.
In recent years, the Air Max 98 has appeared in the most surprising and brightest colorways. The model in this Review + Release is definitely one of them.
---
---
Review Nike Air Max 98 Women
Coolness: 8.8
This colorful Air Max 98 for women is cool for every target group.
Young women will steal the show by wearing this striking colorway with skinny jeans, leggings or a skirt. While the older women take the aesthetic silhouette for granted, and consciously opt for the comfort of this classic.
Looks: 9.1
Appearance is the middle name of this eye-catching sneaker. The different layers in the design, the mix of materials, the visible Air unit along the entire length of the shoe, the surprising colors: all of these factors contribute to a blast of a women's sneaker.
Do you want to be seen? Then this is the sneaker you have to buy.
Durability: 8.9
All of the new variants of the Nike Air Max classics are solidly constructed, yet this Nike Air Max 98 goes one step further.
The construction of leather, synthetic material and textile in the upper is very durable. This is partly due to the double stitching. The sturdy rubber outsole also contributes to the robustness of this sneaker.
Office-Appropriateness: 5.7
Here, this Air Max 98 – just like many other colorful sneakers – fails a bit.
The layered design is not the problem; it is certainly possible to wear them at the office. For most offices, however, this colorway is a bit too much of a good thing, I think.
---
Review Summary:
Nike Air Max 98 Women
Coolness -

8.8/10

Looks -

9.1/10

Durability -

8.9/10

Office-Appropriateness -

5.7/10
Total score
This yields a total score of:
---
---
Images Nike Air Max 98 Women
---
Video's Nike Air Max 98
---
---