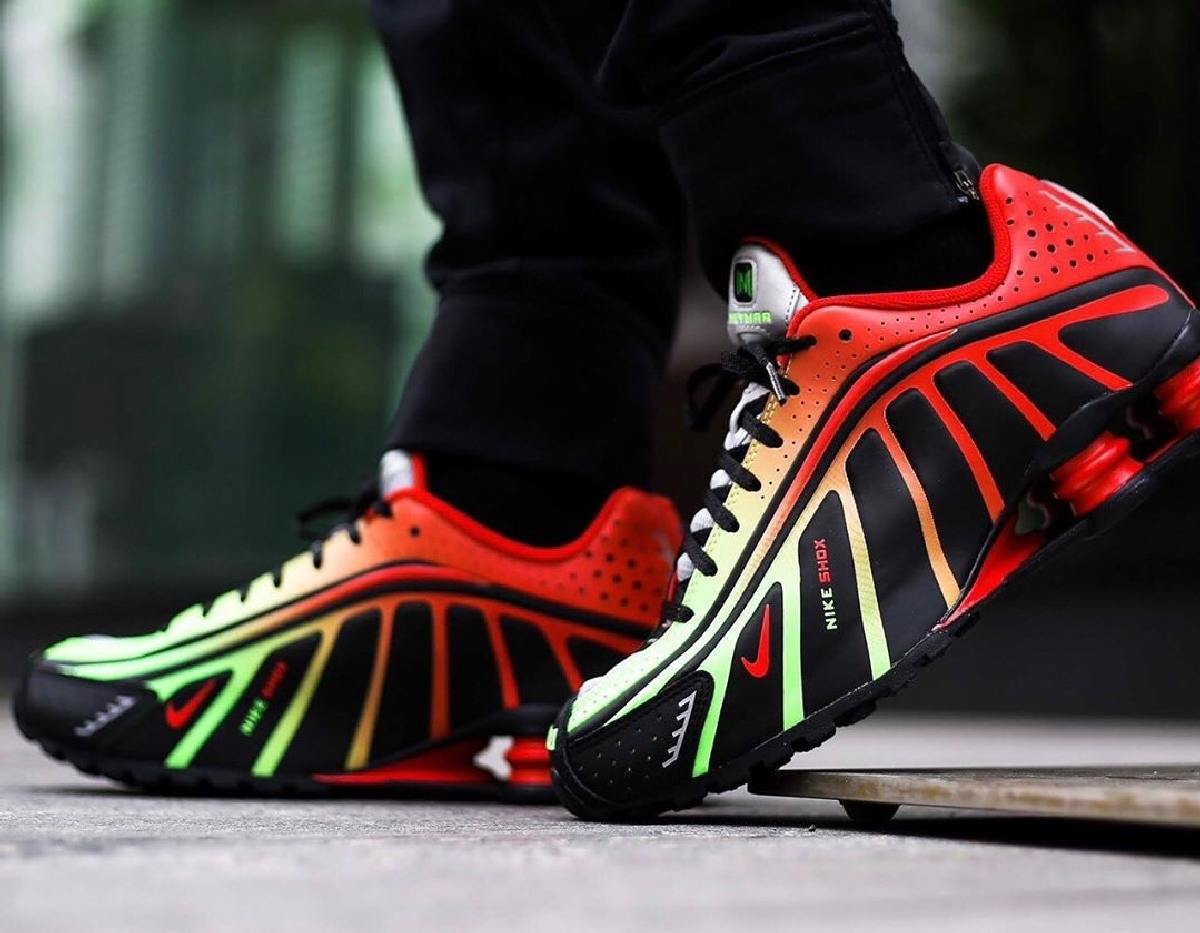 Review + Release: Nike Shox Men
Neymar Jr. is not doing well with many football fans, and that is putting it mildly. His manners and mischief on the field, plus a number of physical incidents outside it, have greatly affected his popularity. Nike does not care at all and last week launched 2 colorways of a new sneaker that bears the name of the Brazilian: the Nike Shox for Men R4 Neymar Jr.
In this Review + Release, I will focus on the complicated colorway Black / Metallic Silver / Lime Blast / Challenge Red. For the sake of convenience, I will refer to it as Nike Shox for Men.
---
The Nike Shox R4 is already 19 years old, but still looks futuristic. The sneaker has a unique silhouette due to the 4 striking columns that support the heel.
These columns are part of the Shox technology, which promotes damping and responsiveness. At the beginning of this century, Shox was the most important invention of Nike since the Air technology.
---
Neymar's favourite
On May 30, the Beaverton brand launched the Nike Shox R4 Neymar Jr. in a white version and in a black version that reflects the colors of a watermelon.
The latter, exotic variant is Neymar's favourite and is part of my review.
---
---
Review Nike Shox Men's
Coolness: 7.5
Although Neymar is still one of the 3 most famous football players in the world, the sales of this striking Shox model are not going through the roof. Almost a week after the launch, there are still a lot of sizes available on Nike.com.
Still, this exotic shoe can be qualified as cool. Why? The launch of this unique, futuristic silhouette in combination with the innovative colorway of black with watermelon requires a lot of guts. Just like wearing it.
Looks: 9.3
This is an open door. The striking silhouette with the 4 pillars under the heel, the contrast between black and the watermelon hues, the eye for detail: there is no lack of appearance with these Nikes.
Durability: 8.8
Just like the previous Shox models, this exotic sneaker is very solid.
The upper is made of synthetic material and the textile scores highly for durability, the laser perforations provide ventilation and the outsole with circular waffle pattern provides optimum grip.
Office-Appropriateness: 4.5
This is also an open door, but in a negative sense.
The reasons why this Nike Shox for Men scores high on appearance also support the fact that this exotic piece of art is totally unsuitable for the office floor.
---
Review Summary: Nike Shox Men's
Coolness -

7.5/10

Looks -

9.3/10

Durability -

8.8/10

Office-Appropriateness -

4.5/10
Total score
This yields a total score of:
---
---
Images Nike Shox Men's
---
Video's Nike Shox for Men
---
---