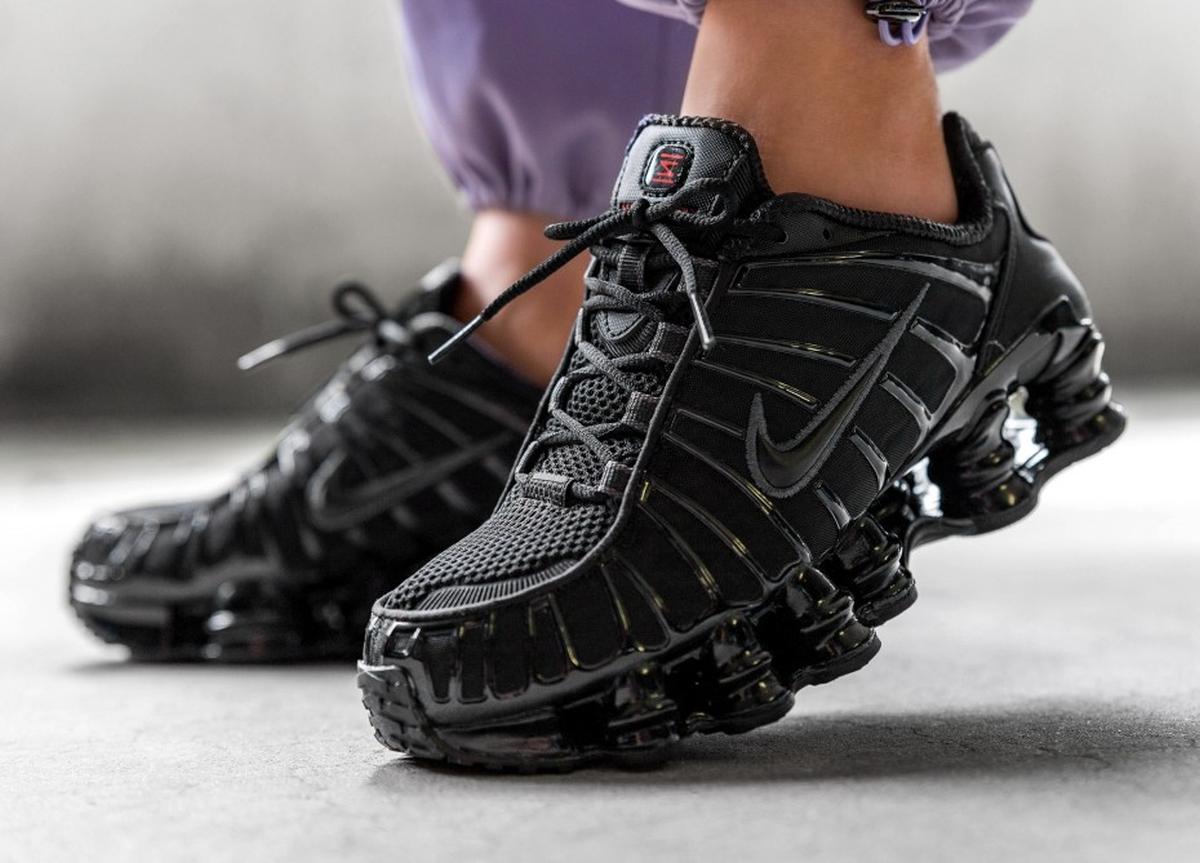 Top 10 Black Trainers Womens · October 2020
Our Top 10 Black Trainers Womens. Or "All Black" trainers womens.
These are not just black trainers. They are trainers that allow no room for other colours. Only black.
And this is precisely what makes them look not just sporty, but also very stylish and sturdy.
But what's the top 10 of coolest black trainers womens in 2020? Which models will make a big splash this year?
Check out the models for this month below.
De top 10 black trainers womens 2020

10. Puma Cell Endura Reflective Black Womens
One of the coolest shoes in our list of black women's sneakers: the Puma Cell Endura Reflective Black.
Inspired, amongst other things, by motorcycle clothing.
And that's clearly visible. Take note of the black leather upper with rubber parts. And the rugged, almost futuristic design.
Moreover, it is clear that this trainer follows the trend of clunky DAD-trainers…
Maybe you can already picture yourself sitting over there on that motorcycle. You would almost forget that basically, it is 'just' a trainer 😉
---

9. Nike Joyride Optik Black Womens
---

8. Nike Epic React Black Womens Flyknit Triple Black
If you were asked to describe the Nike Epic React Flyknit Triple Black in one word, it would probably be: comfortable.
Because this Epic React not only looks very pleasant, it is also has a really nice fit.
The foam cushioning is incredibly resilient and durable. And the flyknit upper feels nice and cosy as it perfectly adapts to your foot.
And on top of that, in triple black! Running (or just stealing the show) is now so much fun.
---

7. ASICS Gel Kayano Black Womens
---

6. Nike Air Force 1 Black Womens Mid ´07 Black
The Nike Air Force 1 Mid ' 07 Black for women is in line with the style of the now iconic Nike Air Force 1. But with a modern twist.
This has to do with the stylish look of the shoe and is particularly evident in the leather upper and the fact that everything is black.
Very comfortable due to the sturdy rubber outsole, foam sole with Nike Air cushioning, padded lining at the opening and Velcro fastening at the top of the laces. All Black.
---

5. Converse Chuck Taylor All Stars Black Womens High Black
Airy and stylish, this shoe.
Airy through the canvas upper. Stylish due to the classic rubber outsole and the black design.
Of course, you can't go wrong with the All Star. And certainly not with this Converse Chuck Taylor All Star High for women.
Now that's quite a mouthful. You can also just say High Black All Stars
---

4. Fila Provenance Black Womens
---

3. Vans Sk8-Hi Black Womens
---

2. Adidas Ozweego Black Womens "Triple Black"
---

1. Nike Shox TL Black Womens
---
This was our Top 10 Black Women's Trainers for this month.
Hopefully you were able to find your ideal black trainers so we could help you out here 🙂
Can't get enough of black trainers for women just yet? Or are you looking for black trainers for your mate or your kids?
Check them all out here:
---