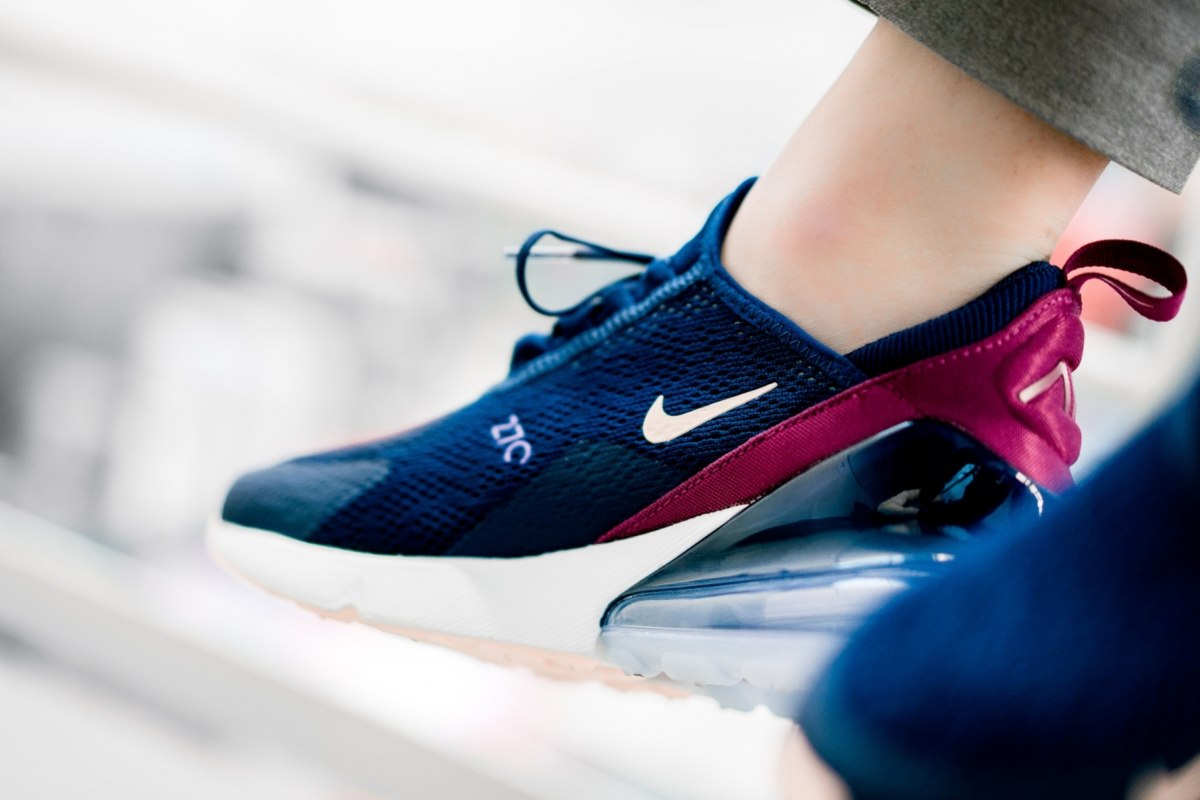 Top 10 Blue Trainers Womens · October 2020
This Top 10 Blue trainers womens can help you find the most fun blue trainers.
Looking for blue trainers? Retro, modern, sporty, elegant, striking, restrained… It's all possible in blue!
Below you can find our top 10 blue trainers womens 2020
The top 10 blue trainers for women 2020.

---
10. Nike React Element 55 Blue Womens "By You Custom NikeID"
Yes, this is a good one! If you like design, that is.
Special sole, something to see everywhere and mostly blue. At least in the beginning.
What you make of it afterwards is entirely up to you. So if you're called Sanne de Jong, you can just put your name on it, see above! And if you are called otherwise also 😉
Great bonus: small chance that your trainers will be nicked…
Our starter in the top 10 blue trainers womens!
---
9. Jordan Air Jordan 1 Retro Low Blue Womens "Royal Tint"
Nike calls this Air Jordan trainer 'retro'. And that is understandable when you see the shoe.
Based on the classic design from the 80ies, which in full blue really comes to the fore.
In any case the most beautiful light blue trainer in these top 10 blue trainers womens…
---
8. New Balance 574 Blue Womens
The New Balance 574 is one of those trainers that you will not regret buying soon.
A durable trainer with a suede and mesh upper. For everyday use.
The colour use on this blue version gives the shoe an even flashier appearance.
---
7. Converse All Star Wordmark 2.0 Blue Womens
Classic All Stars design. At least, if you ignore the brand name repeatedly printed on the upper.
A special version for a daring look: for the All Stars enthusiast who wants it just a little bit different.
And therefore a place in our top 10 Blue trainers for women!
---
6. Nike Air Vapormax Blue Womens "Teal Tint"
The Vapormax lends itself perfectly to the colour blue due to its striking design. It gives the trainer an ice-cold look.
Definitely this Vapormax. Everything is just right.
The translucent design, the Navy laces, the silver details… It all contributes to the unique look of this trainer.
---
5. Adidas Gazelle Blue Womens
The Adidas Gazelle is a classic with a timeless design.
Worn by hip-hop stars, pop icons, rock musicians… But also perfect as a simple lifestyle trainer.
The blue suede and the golden details on this version contribute to the elegant look of the trainer.
---
4. Vans Old Skool Blue Womens "Navy Blue"
Vans proves that the simplest designs sometimes work best.
And Navy Blue works very well in the Vans Old Skool, as if the trainer was meant for that.
With of course the iconic Vans Side Stripe in white on the blue canvas.
---
3. Nike Air Max 270 Blue Womens "Blue Void"
The huge Air Unit in the heel is of course the calling card of the Air Max 270.
This edition has been chosen for striking colour use.
Basically this sneaker is blue, but in the finish we also encounter 'burgundy' red, peach-like orange and purple.
And crazy enough it all goes very nicely together!
---
2. Adidas I-5923 Blue Womens
Oei, that clashes…
Maybe that's your first reaction if you see those pink stripes on the Adidas I-5923.
Still our number 2 in the top 10 Blue trainers womens.
Why?
Because sometimes it a bit of "clashing" doesn't harm.
And quite honestly: the longer we look at this shoe, the more beautiful we find it.
---
1. Nike Air Max 720 Blue Womens
If you are looking for beautiful, bold, bold, modern trainers, then with these guys (or are they gals?) you're perfectly okay!
They exude sportiness and dynamism. And with this blue version you'll stand out just a little more than normally.
New in this list and immediately at number 1. Let's see if it can hold that over the next few months..
---
Looking for other blue trainers womens? Or for men or children?
Check them all out here:
---