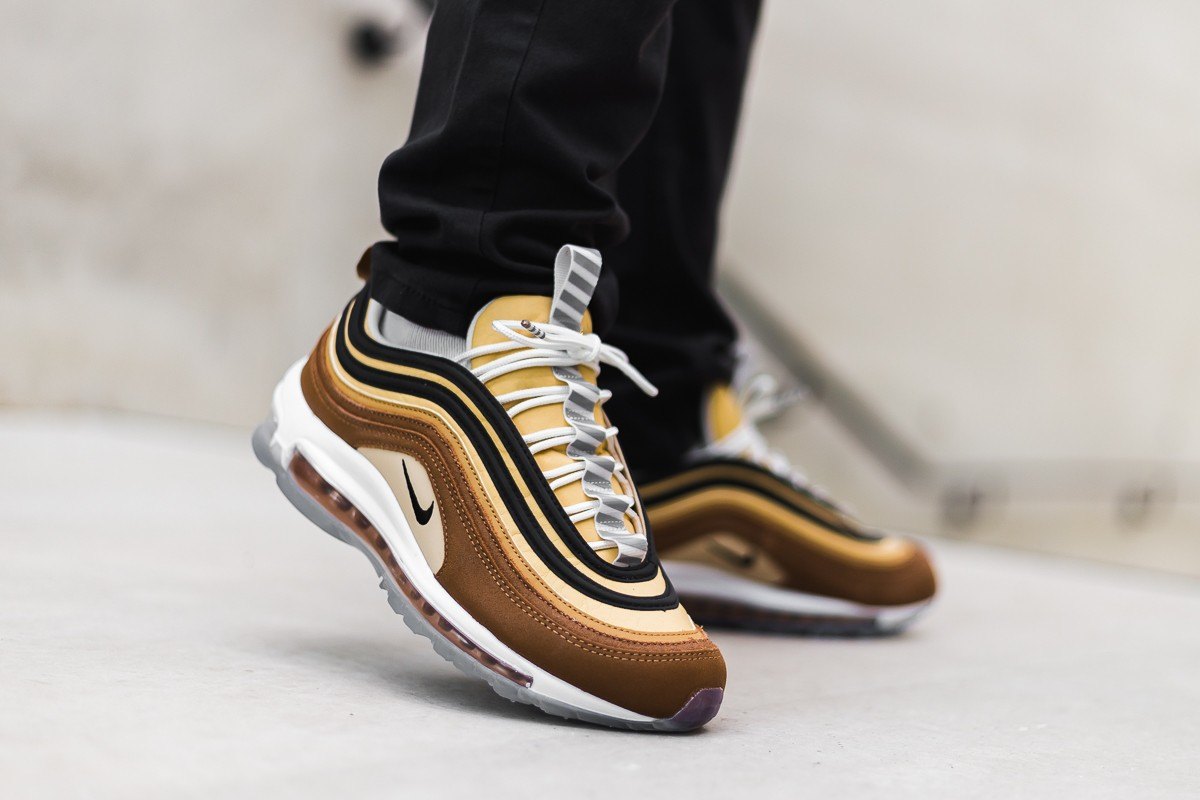 Top 10 Brown Trainers Mens · October 2020
This Top 10 brown trainers mens can help you find the best brown trainers.
In fact, brown trainers are tough. And they really serve many purposes.
In our top 10 brown trainers mens 2020 we highlight a number of unique specimens that are just a little different from the average trainer.
The top 10 brown trainers for men 2020
10. Nike Air Max 90 Brown Mens
The retro design of the Nike Air Max 90 is a true classic.
New colour schemes and small adjustments ensure that this sneaker continues to stand the test of time.
This "Wheat" version is a wonderful combination of classic and modern.
---
9. Vans Sk8-Hi Brown Mens "Reissue"
Because of its flexible and durable character, Vans are the ultimate trainers for those who move a lot and like to be outdoors.
This light brown "Vans Sk8-Hi Reissue" version also has a very stylish finish.
For on your skateboard and at work!
---
8.
Nike Air Wildwood ACG Brown Mens 'Desert Dust'
This Nike model first came on the market in the 90ies as part of the ACG product line.
ACG stands for All Conditions Gear. This trainer is therefore designed for all weather conditions.
This 'Desert Dust' edition looks very much like the original and with the brown upper with striking blue accents it's both retro and modern.
---
7. Adidas Handball Spezial Brown
For this trainer, Adidas draws inspiration from the well-known Spezial series from the 80ies.
Made from a sturdy upper that fits comfortably around the foot.
But mainly special because of the brown hue. And that's why it's number 7 in our top 10 most beautiful brown trainers mens of 2020.
---
6. Converse Run Star Brown Mens
The Run Star by Converse only shows a resemblance to that hugely popular Converse trainer, the All Star, because of the star on the side.
Furthermore, this is a completely unique trainer: A classic sports shoe in an ultra modern, luxurious version.
The different shades of brown run all the way to the bottom of the sneaker. Every detail has been thought through.
---
5. Nike SB Zoom Stefan Janoski "Slip RM Crafted"
Number 5 of our top 10 brown trainers mens 2020 are these Nikes.
This model was only really successful from 2013. And this brown trainer is a renewed version.
It looks incredibly comfortable. And it is, especially thanks to the ventilating upper.
---
4. Reebok Classic Brown Mens Nylon
You don't find them tighter than this. This Reebok Classic exudes quality.
For the leather upper a distinguished colour brown was chosen, which stands out but is still very stylish.
Which is how Reebok proves that it is the perfect choice on top of that white sole. A classy trainer!
---
3. Vans Old Skool Brown Mens
Quirky. That's the first thing that comes to mind when seeing this Vans trainer.
And what else can you expect from a collaboration between Vans and Anaheim Factory?
This brown Old Skool with beige upper is totally different in appearance from the usual Old Skool trainer.
But don't let the look fool you. It is and remains a real Vans, so just grab your skateboard again!
---
2. Asics Gel Lyte 3 Brown Mens "x Sneaker Freaker"
The Asics Gel Lyte 3 is known among other things for its simple design that is made for the best performance.
With this "x Sneaker Freaker" version, Asics just takes a different tack.
Still made to perform, but with this sand-coloured trainer with unique details, you'll also stand out from the crowd!
---
1. Nike Air Max 97 Brown Mens
Number 1 in our top 10 most special brown trainers mens of 2020 is this Air Max 97.
If you look closely, you will see that the design of this trainer is based on a shipping box. Yes, really…
A large barcode is placed at the bottom of the translucent sole, just like on the pull tab at the back of the trainer.
The silver and white striped strap on the tongue is reminiscent of the tape Nike uses to pack orders.
And then there's the colour. Gold-like, caramel… Or maybe just the colour of a cardboard box?
---
Below you'll find many more brown trainers, also for women and children:
---