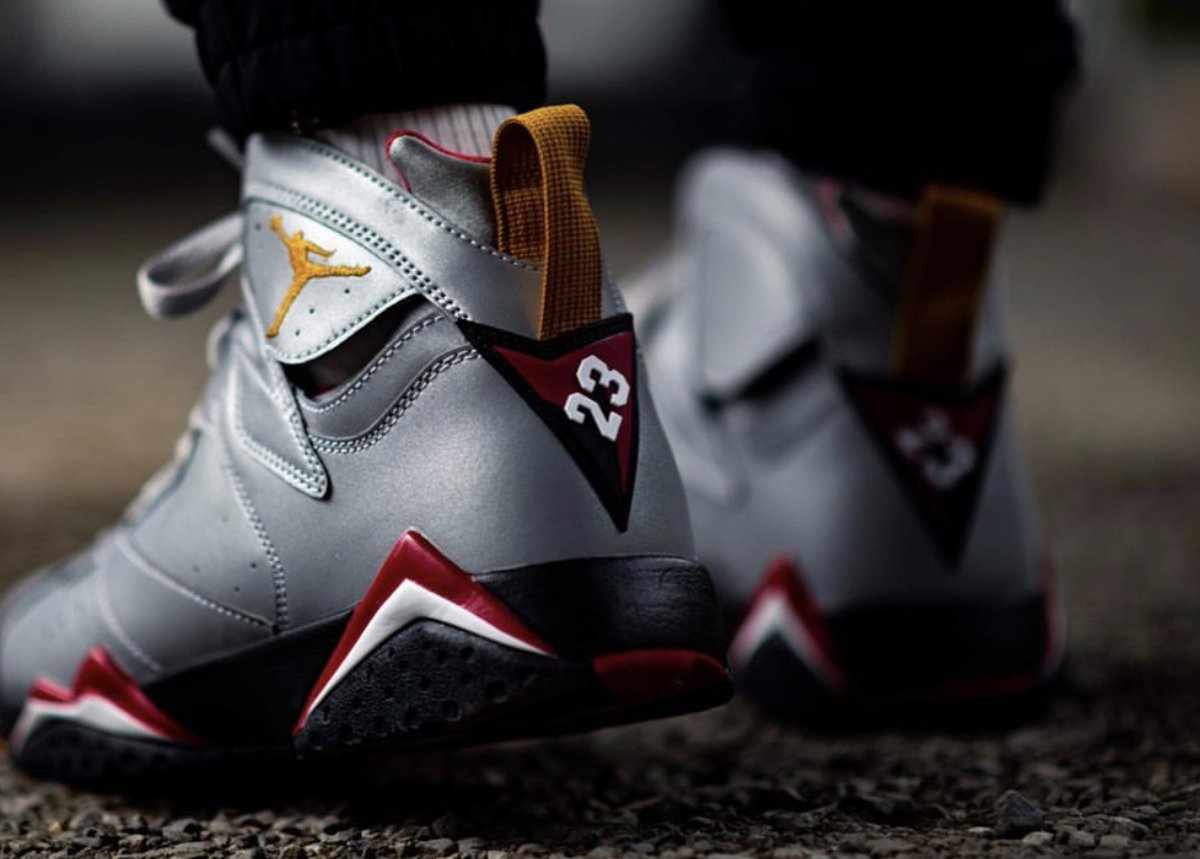 Top 10 Mens Silver Trainers · October 2020
These top 10 silver mens trainers can help you on your way to finding the best silver trainers.
Silver trainers? Why not? We have found a number of very successful models and put together a list of the top 10.
Look at it and be surprised!
The Top 10 Mens Silver Trainers
10. Jordan Air Jordan 7 Men's Silver "Reflective Cardinal Silver"
We start our top 10 with a very unique model.
Jordan originally released the "Cardinal" Air Jordan 7 in 1992. The OG colouring will return in 2019 with some extra detailing.
Made from reflective silver with "cardinal" red, black, and bronze.
This Air Jordan 7 is actually the Cardinal 7 with a silver reflective material that replaces the traditional white upper.
All other details are the same as on the original release.
---
9. Adidas Equipment Support Mid Adv Men's Silver
If you have to describe this Adidas model in one word, then 'beautiful' may be a good option.
Beautiful because the trainer looks incredibly sleek and stylish.
But also because of the silvery Primeknit upper and the reflective stripes that run down to the sole.
---
8. Reebok Pat Men's Silver – Top 10 Mens Silver Trainers
What a colossus this Reebok Pat mens trainer is! A stylish sovereign.
This is partly due to the silver colour scheme. This gives the trainer an almost futuristic look.
You would almost forget that it is a boxing shoe. With lightweight cushioning and a secure fit for optimal comfort, flexibility, and sturdiness.
---
7. Reebok Classic Men's Silver – Top 10 Mens Silver Trainers
This Reebok Classic is a real performance trainer, but in a very stylish silver version.
The suede accents ensure a high-quality finish of this trainer.
At the same time the shock absorption is great and the durable rubber sole provides good grip.
---
6. Adidas Rising Star Men's Silver "x R1 Never Made"
Nice retro, this number 6 of our top 10 most beautiful silver trainers for men.
The 80s design of this Rising Star comes into its own thanks to the red and blue details on the metallic silver upper.
Tightly finished in suede and leather. A beautiful vintage Adidas trainer!
---
5. Nike Air Vapormax Men's Silver "Retro Future"
In fact, the Flyknit upper is more grey than silver…
But because of the design and the contrast with the pitch black Vapormax sole and laces this trainer looks like real silver.
So in our opinion it belongs in the top 10 silver men's trainers.
---
4. 
Adidas Nite Jogger Men's "Metallic Silver"
We don't know at a glance – is this Adidas trainer really modern or retro? Or maybe a good mix of both?
Details from the modern NMD R1 can be seen, especially on the white Boost sole.
Yet the design is clearly inspired by trainers from the 80s, including the shiny silver elements.
"Vintage Tech", as Adidas describes it. We agree with that.
---
3. Nike Air Max 720 Men's Silver – Top 10 Mens Silver Trainers
The different shades of silvery grey do very well in combination with the lines on the Air Max 720.
And then below that the characteristic air sole of this Nike model. It all fits together perfectly.
It gives this trainer a pretty powerful look.
---
2. Adidas X Raf Simons Detroit High Men's Silver
Yes, this is of course also possible. Something different from most partners, but that makes it good for people who like something a little different.
A high leather trainer on a rather present rubber sole, assembled by designer Raf Simons.
A reinterpretation of the low Detroit Runner. Or is it just a boot?
---
1. Nike Air Max Deluxe Men's Silver
The name says it all – Deluxe. This Nike trainer really exudes that.
The Air Max Deluxe was created in the late 90s, inspired by the sound waves and energy of the then wildly popular raves.
This is reflected in this silver version. It radiates energy and speed.
Due to the sleek silver design the trainer also has something extraterrestrial about it.
We think it worked very well. Therefore it is number 1 on our top 10 silver mens trainers!
---
Fancy even more silver trainers? Check them all out below:
---