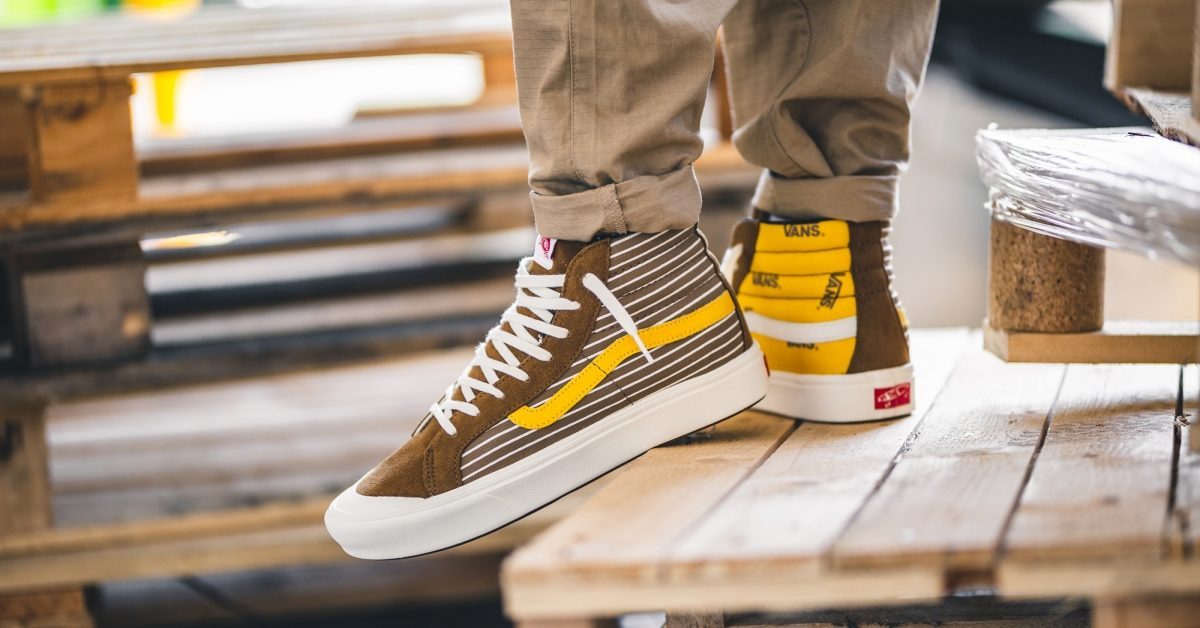 Review + Release: Vans Hi Tops Mens Brown
The Vans UA ComfyCush Style 138 Lx "Old Gold" combines a classic, robust design with the latest Vans technology.
This striking retro sneaker was launched on July 1st and is therefore the subject of this Review + Release. For the purpose of this review, I will shorten the name and refer to this sneaker as the Vans Hi Tops Men's Brown.
---
The Vans "Off The Wall" brand is probably the world's most popular skate brand. In 1966, brothers Paul and Jim Van Doren founded The Van Doren Rubber Company, together with partners Gordon Lee and Serge Delia.
The California company was, for the time period, incredibly progressive. Behind the store, the company produced sneakers of their own design. If you ordered a pair in the morning, you could even pick up your sneakers that afternoon.
In 1976, The Van Doren Rubber Company launched its first official skate shoe: the Vans Era, which catapulted the brand into the American shoe market.
One of the key factors of their popularity was that all Vans products were specially developed for skating, and that the stars of the famous Zephyr Skate Team contributed to the designs.
The Zephyr Skate Team (Z-Boys)
---
Vans Hi Tops Brown for Men: reinforced with ComfyCush
At the beginning of this week, the American skate brand launched the Vans Hi Tops Mens Brown. This retro model is enhanced with the Vans advanced ComfyCush technology.
This comfortable technology ensures a first-class fit and feels like walking on a cloud. The rubber and foam construction provide both comfort and grip.
---
---
Review Vans Hi Tops Mens Brown
Coolness: 8.5
With a pair of Vans on your feet you are always in the right place. The classic skate brand has surpassed every hype and over the past decade has captured the hearts of everyone with a sense of style.
The Vans Hi Tops Mens Brown scores a well-deserved 8.5 with its striking colorway.
Looks: 9.0
With its thick white sole, the brown-yellow colorway and the striking horizontal stripes, this mid-high topper is a real eye-catcher.
Durability: 9.5
This sturdy skate shoe consists of robust materials.
The rubber outsole and the upper of suede and textile ensure that this retro sneaker will last a long time.
Office-Appropriateness: 7.6
In itself, the silhouette of the average Vans sneaker – both the low and the half-height models – is ideal for the informal office floor, if properly polished.
The unusual colorway of brown and yellow with white stripes, however, slightly lowers the score.
---
Review Vans Hi Tops Mens Brown
Coolness -

8.5/10

Looks -

9/10

Durability -

9.5/10

Office-Appropriateness -

7.6/10
Totaalscore
This yields a total score of:
---
---
Images Vans Hi Tops Mens Brown
---
Video's Vans ComfyCush
---
---