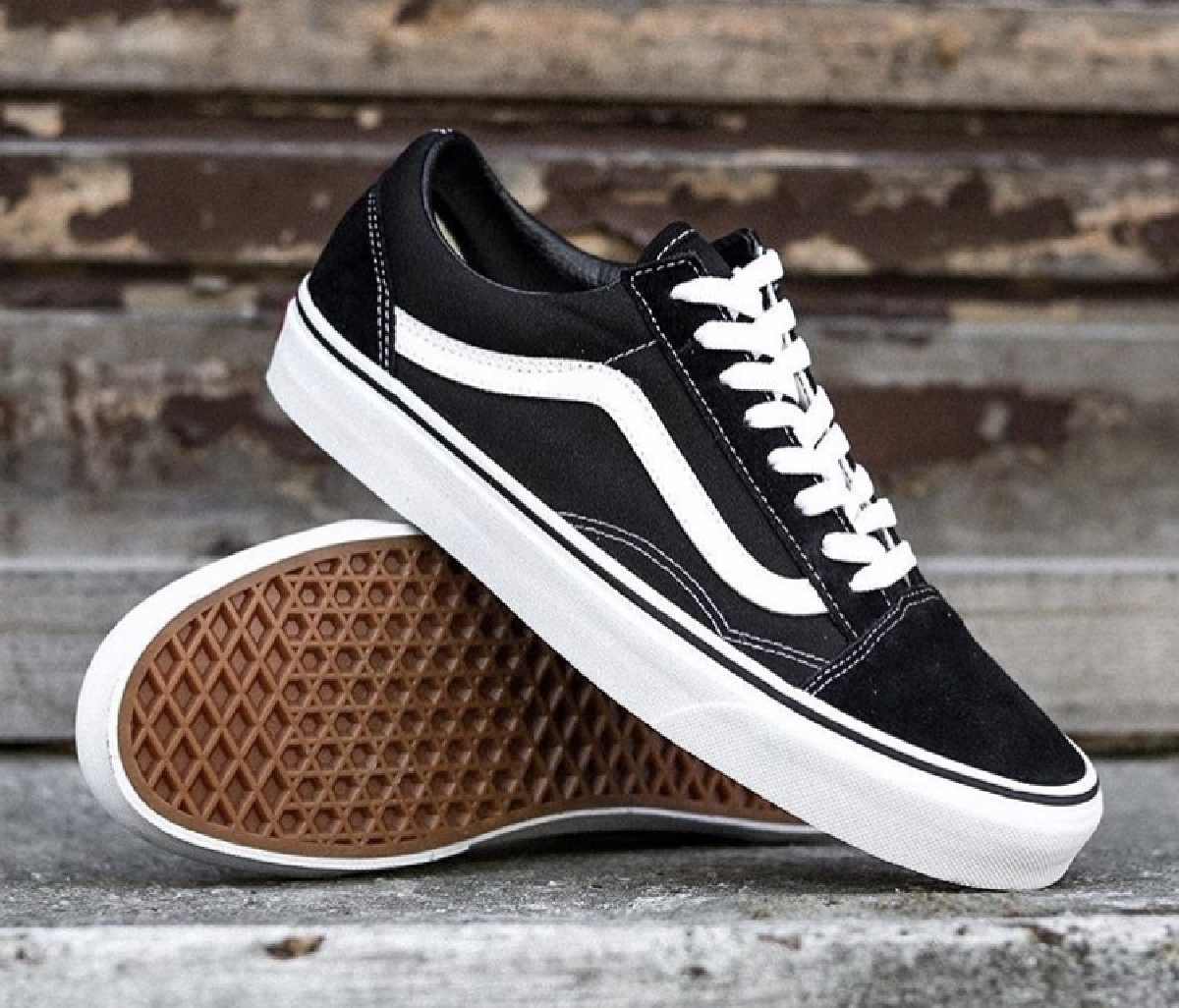 Review: Vans Old Skool Black, debut of the Sidestripe
It is slightly younger than the Adidas Superstar, but certainly just as famous: the Vans Old Skool. Vans co-founder Paul van Doren designed this trainer himself and launched it in 1977. The rest is history.
In today's review the Vans Old Skool black is central.
---
The brothers Paul and Jim Van Doren founded The Van Doren Rubber Company in 1966 with their partners Gordon Lee and Serge Delia.
The company in Anaheim, California was unique because it manufactured the shoes to its own design behind the store where they were sold. Customers who ordered shoes in the morning could pick them up already in the afternoon.
In the early 1970s the founders noticed that their shoes were extremely popular on the skate scene of Southern California. The rugged appearance and the sticky sole played a major role in this.
After the company launched its first official skate shoe the Vans Era in 1976, the absolute classic followed in 1977: the Vans Old Skool.
---
---
Vans Old Skool: the casual scribble that becomes an icon
The launch of the Vans Old Skool also marked the debut of the legendary Vans Sidestripe. What started as a casual scratch by Paul Van Doren grew into an iconic characteristic of the American brand.
The Vans Old Skool was also the first shoe of the brand with leather panels. These panels ensure that the shoe is more resistant to varial flips, ollies, and other skate tricks.
---
Review Vans Old Skool zwart
Coolness: 9.6
The Vans Old Skool is a true classic. This low lace-up shoe with the iconic side line grew from a popular skate shoe into a sought-after and timeless fashion item.
From the half pipe to the catwalk: you see this trainer everywhere, and that for years on end. Is it cool? I thought so!
Looks: 9
The black and white Vans Old Skool is not the most eye-catching version of the Old Skool line. The combination of this restrained colourway with the classic design, however, splatters in simplicity and ensures that the trainer fits well with almost any outfit.
The famous white Sidestripe provides the right edgy detail that makes the trainer recognizable.
Durability: 9.4
The Vans Old Skool is originally a skate shoe and that is reflected in the quality of this topper.
The trainer has padded cuffs for support and flexibility, suede panels on the side for extra durability, and the reinforced nose can also take a beating. In addition, the characteristic waffle sole can hardly be broken.
Office-Appropriateness: 8
(This section concerns offices where an informal dress code is in force.)
The simple colourway and the classic design ensure that this model is absolutely accepted within the office walls.
It is important to keep the midsole nice and white, which is not easy once it has become dirty.
---
Rating Summary:
Vans Old Skool Black
Coolness -

9.6/10

Looks -

9/10

Durability -

9.4/10

Office-Appropriateness -

8/10
Total score
This yields a total score of:
---
Images Vans Old Skool black
---
Videos Vans Old Skool black
---
---